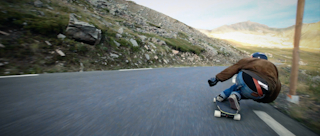 FULL TILT
SYNOPSIS
THIS IS THE STORY OF A GREAT DOWNHILL SKATER WHO DIED IN THE SWISS ALPS.
STATEMENT
IT'S A STORY THAT NEEDS TO BE TOLD. JOSE WASN'T JUST A DOWNHILL SKATER, HE WAS ALSO A HUSBAND, A FRIEND AND A FATHER.
AND IT'S ALSO NOT JUST ABOUT JOSE, IT'S ABOUT HOW THE LOCAL LIFE GOES ON AFTER SUCH A TRAGEDY.
CREDITS
Dir. Fabio Stecher
Dop. Stefanie Zemp
Editor. Fabio Stecher
Editor Assistant. Jennifer Schultz
1st AC. Jennifer Schulz
2nd AC. Thomas Hochstrasser
1st. CO. Mirko Paoloni
2nd. CO. Misha Miros
Music. Scott Holmes
Subtitles. Patrick Templin / Adrian Suenderhauf
Concept. Fabio Stecher