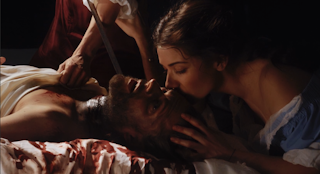 Holofernes meets Judith
DIRECTOR
This masterpiece is one of the artworks which originated from the biblical episode by Caravaggio.
Its strong charisma and the thoughtful use of the light can have an indescribable effect on its observer,
which inspired a whole crew of professional artists to recreate this breathtaking painting.
With a great team Involving: Filmmakers, actors, make-up artists, as well as a great stylist to dress these
characters in modern haute couture we wanted to bring this masterpiece to life and connect the
classic subject with the 21st century
DON'T CRY, LAUGH!
The world doesn't need more depressions, so be happy and enjoy the time you have!
This version of the famous painting was part of the biblical episode by Caravaggio.
It displays the young widow (Judith) beheading the Assyrian general (Holofernes), to save her home.
A very popular subject, especially in the Renaissance and Baroque period, but only the most outstanding artists,
like Caravaggio, could create such a memorable masterpiece.
One of the main reasons for our reinterpretation of this painting was the challenging light set up which creates this unique look.
We are absolutely fascinated by the intense study of light and hard work which Caravaggio put into this painting.
A new interpretation of an iconic moment in the history of art.
The original version of the famous painting originated in the 17th century and was painted by the magnificent "Artemisia Gentileschi". It embodies the horrible tragedy she had lived through and displays the emotions she must have had while painting.
Our new interpretation is an homage to Artemisia, we hope to bring those emotions back to life and honor the outstanding work of an artist who had to endure heartbreaking injustice along the way of becoming an icon.
"My illustrious lordship, I'll show you what a woman can do."
-Artemisia Gentileschi
Holofernes meets Judith
ABOUT
Happy release day! We've re-enacted and re-interpreted three different paintings of the beheading of Holofernes.
Now the limited images are available as NFT on Opensea!
https://opensea.io/collection/judith-holofernes



CREDITS
Director: Fabio Stecher
Concept: Fabio Stecher

Produced by: NoCap Art Gallery
Executive Producer: David Oberholzer
Director of Photography: Ben Zaech

Production Designer: Anjelika Smirnova-Oberholzer & Kim Badertscher
1AC/Focus Puller: Myrionymos Baikouzis
Gaffer: Jan Harder
Grip: Jan Harder
Make-Up Cast: Carol Geiger & Dany Baia
Styling Cast: Lucine Ayanian

Post: done by the NoCap Team
Post Supervisor: Jean-Chris Oberholzer

Main Cast: Nicola Graf, Natalie Frehner, Laura Farisè, Fabienne Meier,
Leyla Coşkun, Tatiana Bogolepova